Meet the General Manager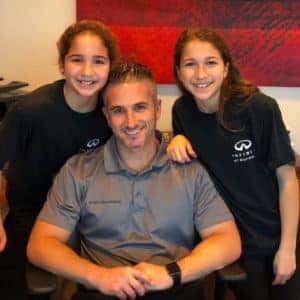 The Albrecht Auto Group would like to introduce our newest General Manager of our INFINITI of Norwood store, located at 866 Providence Highway in Norwood on the Automile. Ladies and gentlemen, we'd like to introduce you to Adam Goldstein. Does his face look familiar to you? Maybe. And no it's not from TV. He has been working with us since 2004 where he got his start as a sales person. Adam quickly rose the ranks to sales manager in 2006 and ultimately graduated from the Dealer Academy in august of 2018. January 1, 2020, Adam assumed the role of General Manager.
Adam is married with 2 daughters (pictured here). In his spare time, he enjoys his days with his wife and girls, likes going to the gym, doing yard work (sorry ladies, he's taken) and spending time on his own cars.
2020 is set to be a big year for INFINITI of Norwood with Adam's great vision. When we asked him what message he wanted to deliver to his clients and future clients, he simply said, "I have no "message". There are no gimmicks. No games. We are straight forward, upfront and here to help. I want to help every person that walks through the doors buy, sell or service a vehicle. It's important they know once they walk in, they are part of our family and we will do what's right for everyone, always.
If there's anything that Adam can do to help you, he is an open door. Please feel free to contact him at 781-702-6204 or agoldstein@albrechtauto.com. Congratulations, Adam! Everyone at the Albrecht auto Group wishes you all the best and can't wait to watch you do great things here! Cheers to a record setting 2020!