Boston Marathon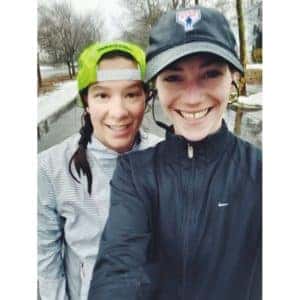 Boston Marathon 2019 Training Update – Week 7
It was a long 16 miles for Kate and Jess this weekend. The two set out this past Sunday for their run, regardless of the weather. Things are moving right along schedule for them as they are on pace with the their training schedule. With 50 days to go, things are starting to get very real.
Between dodging puddles and lingering snow from the past few storms, it wasn't an easy run. Last week, being school vacation for most Massachusetts schools, a lot of the sidewalks were still covered with snow so it made for a bunch of side stepping over the mounds of packed slushy ice.
Given the options though, they're considering themselves pretty lucky. Do we dare say that they could be running the 16 miles on a treadmill!?!?! At least the fresh air and small breaks of sunshine helped to keep them focused on the end goal….. RIGHT ON HEREFORD, LEFT ON BOYLSTON.
Those words speak volumes for anyone that's been lucky enough to run the Boston Marathon. The final steps of the entire day will be ones that require taking a right on Hereford St and then a left on Boylston St. Running in the cold weather makes one's legs feel like cement blocks and trust us when we say that they will feel the same way come Marathon Monday. However, having the crowd support cheering them on from every angle, will lift their spirits up so high and they will feel like they're floating down the final stretch.
Both Kate and Jess have been fortunate to be in such great shape and not have nay major issues health-wise. They are both in great shape and continue to follow the training plan. It's not easy and the weekends are starting to become a little less social driven and all focus is on scheduling life around the weekend's "long run". Being able to have a few extra hours of midday daylight on the weekends helps so they are able to get out and run when they can soak up as much of the warmth that the day brings.
To think there are only 6 more long runs left until the big day is both exciting and terrifying in the same sentence. According to the researchers and professional runners out there, now is the optimal time to purchase the sneakers they will be racing in. This gives them enough time to break the sneakers in enough as to not have any issues with blistering and make sure they are comfortable to spend over 4 hours in. So it sounds like this week the ladies will be out shopping for their very important footwear. We like Road Runner Sports for options on sneakers. Not only are there many options but they also have a good 'fit finder' that will give you feedback on the best kind of sneaker for your body, running style and body type. If either of these ladies are looking to make a switch, now is the time to do it!
Happy Monday and a much needed rest and recovery day from both our runners! We will keep you updated this week as with what sneakers they decide to gift themselves. Keeping our fingers crossed for a good weather week for some more outside training runs! #respechtatalbrecht #bostonmarathon #INFINITI #onefootinfrontoftheother #6weekstogo